We may receive a commission for referring new users. If you decide to sign up after reading my Personal Capital review, you're helping support our free content at no cost to you, so thanks! You should sign up because it could change your future.
The first time I heard of Personal Capital, I was working as a Financial Counselor at the University of Utah. This was back in 2016 and we were working on revamping our website.
We got a call from someone in Denver, Colorado and they asked if we would be willing to place a financial calculator on our website that was created by Personal Capital. I politely declined because I had never heard of the company before and didn't want a bunch of noise on our website.
After the call, I looked into it and decided to create an account. I connected a few accounts and then completely forgot about it for about 6 months. It felt very overwhelming at first and I didn't want to take the time to learn it.
After 6 months, I was reading a post from Millennial Money and saw that he was a big fan of Personal Capital. A lot of bloggers were big fans!
Because of the online positivity, I spent a little more time setting it up and I've been hooked ever since.
Here's my Personal Capital review and why I think it's the best free financial planning software of 2020.

What is Personal Capital?
Personal Capital is an online wealth management company that believes the power of technology can make the financial services industry more affordable, accessible, and honest. 
You can think of the company as two main divisions:
Free financial planning software
Online wealth management
I have never used their paid online financial planning and wealth management services and so I'm not going to be reviewing that today, only their free tools. 
They also offer their free Personal Capital app that I'm guilty of logging into nearly everyday.
After the initial set up, and once I became comfortable with Personal Capital, I discovered some powerful features.
Here are 5 powerful features that I love about Personal Capital.
1. Accurate & Visual Graphs
One of my favorite features is seeing my complete financial picture in one simple dashboard.
By connecting all of your financial accounts, it's able to create a nice-looking picture of your where you are with your finances. And it updates on a daily basis to give you accurate information and visuals.
Seeing how my assets are going up and my liabilities are going down is super motivating to me.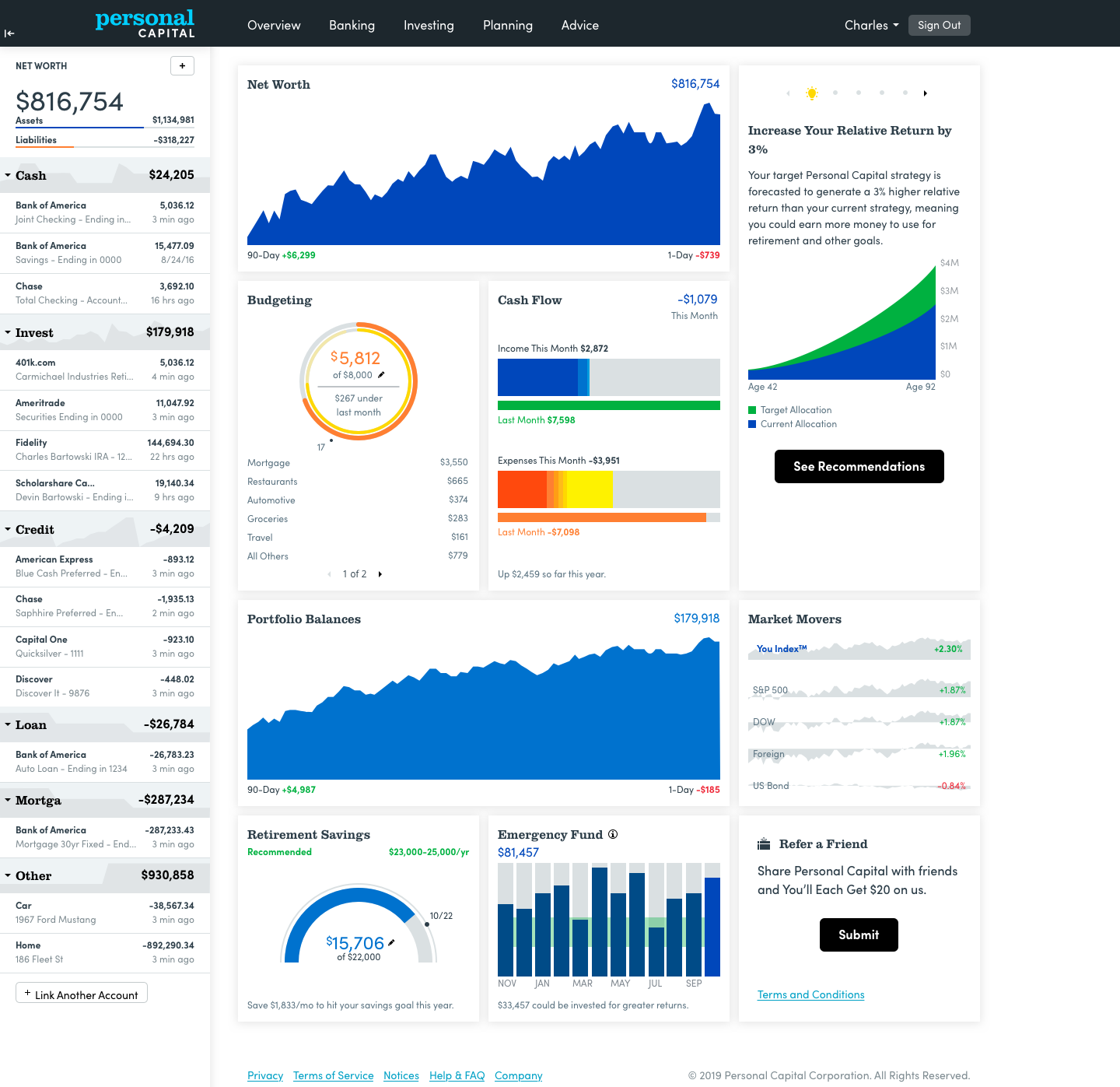 If you set up a Personal Capital account today, in ten years you'll be able to look back and remember how broke you were and just how far you've come. 
I've got four years of data under my belt now and it's amazing to see how thing have changed based on the markets, my jobs, when I borrowed money, etc.
It also integrates with Zillow for property values and over 10,000 other financial institutions.
I'm a very visual person and seeing all of their graphs is very satisfying.
2. Account Aggregation
I love being able to see all of my accounts in one place.
As many of my readers know, I'm a HUGE fan of the JARS Money Management System. And this system requires six bank accounts.
It's nice to see each bank account along with my credit cards, mortgage, and investments.
If I wasn't able to see all of my accounts in one place I would probably forget that some of them existed.
Seriously. 
It also shows you all of your spendings and compares that with the previous month to see how you're doing. 
As you can see, it automatically categorizes transactions and shows you what percentage of your spending that category represents. It will compare what you're spending this month to what you spent last month.
To be honest, I think Personal Capital is lagging when it comes to robust budgeting tools. For that, I use my favorite free budgeting software.
Read: Top Rated Free Budget Software That Will Simplify Your Finances
3. Investment Performance
When I first created an account, I was also in business school learning about investments.
I was becoming very familiar with terms like index, benchmark, blended, S&P 500, DOW, foreign markets, and so on.
At the time, none of these terms meant anything to me personally.
After connecting my investments to Personal Capital, I started understanding these terms better. I was able to see how my portfolio was doing compared to the S&P 500, foreign markets, and so on.
Before that, when I would hear how the markets did today on the radio, it didn't make sense to me. But because of the Portfolio and the Holding & Allocations section of the app, these things began to make sense.
I could see the percentage change of my investments for the day and see the dollar amount change as well.
Certain days when the markets did well, and I saw how it impacted my net worth, I was a happy camper.
On days when markets are volatile and down, I try not to let it bother me.
Each week, I continue to get a summary email like this. 
4. Net Worth Tracker
When you track your net worth, you're more motivated to make better financial decisions.
Personal Capital has literally forced me to make better financial decisions because I want to see that graph going up.
I will mention that checking your net worth too frequently can cause undue stress and I do try and limit how much I log into the app.
Anyone else know what I'm talking about?
I also find ways to have a balance between saving and spending. Because of the way I manage my money, I force myself to spend money on fun things as well.
You shouldn't bee 100% extreme all the time with your savings. You have to have balance.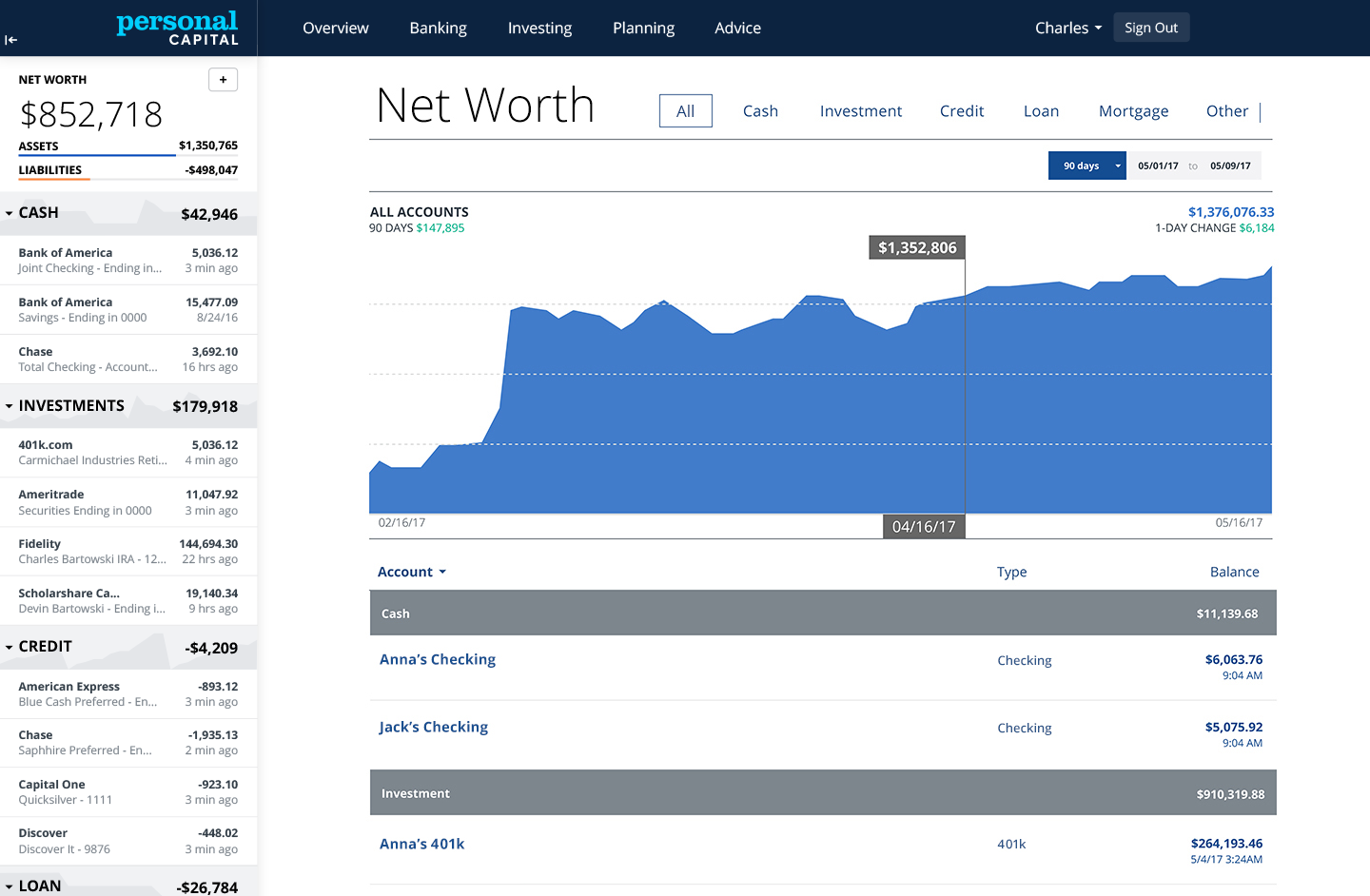 5. Fee Analyzer
I never really knew how much I was paying in fees until I was able to see the expense ratio for each individual security within the Personal Capital fee analyzer.
Investment companies make it difficult to see what exactly your expense ratio is. The fee analyzer made it really easy to see how much money I was paying for each investment and get rid of the ones that were too expensive.
It was one of the main motivating factors that pushed me to invest in an ETF at Vanguard (VTI) with an expense ratio of 0.03%.
Related: I Don't Know How to Invest & I'm Scared I'll Make a Mistake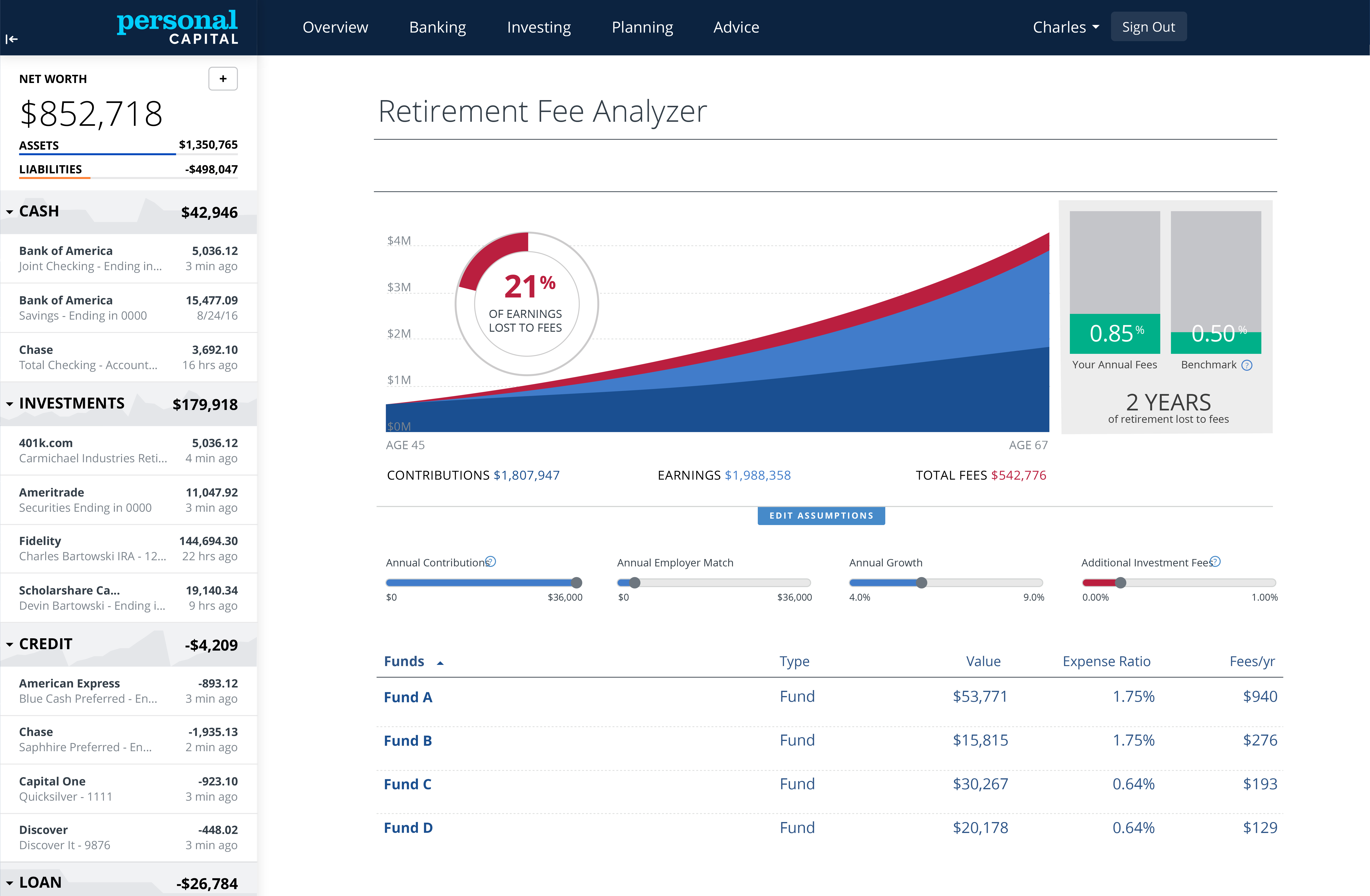 You can see that there is a lot to like about Personal Capital. These are only 5 of the many powerful features that Personal Capital has to offer.
Mint vs. Personal Capital
Toward the beginning of the article, I mentioned my favorite free budget software. Which happens to be Mint.
Personal Capital and Mint's features are quite complementary.
I've been using Mint since 2014 and found it to be great for tracking expenses and staying on top of my finances, but it lacked big time when it came to investments.
I now use both because they each serve a different purpose.
When it comes to budgeting:
Mint > Personal Capital
When it comes to investing:
Personal Capital > Mint
Here's a comparison that Personal Capital put together comparing themselves to Mint. 

Is It Safe to Use Personal Capital?
Personal Capital is safe to use. They use many layers of security to keep your money and your information safe and private.
Like Mint, the don't actually have access to any funds. You're simply aggregating the information and then they're able to analyze it.
Of course, nothing is un-hackable but they definitely take extra safety precautions. So much so that I would have to update my USAA connection every day by logging into my bank with 2FA if I wanted to see accurate bank information.
Because Personal Capital is a free financial planning software, you would think that they sell your information like many of the free personal finance apps out there. But in fact, according to their privacy policy, it states; "Personal Capital's core business is wealth management. This means that our objective is to win you over as a Personal Capital Advisory Client. We do not rent, sell or trade your Personal Information."
How Much Does Personal Capital Cost?
After everything I've mentioned, you may be thinking, "is Personal Capital really free?"
And the answer is, yes! It really is free. But if it was completely free they wouldn't be in business. So that brings up the next question.
How Does Personal Capital Make Money?
Personal Capital uses it's amazing software to draw people in. They've been able to amass quite a large amount of users who use their tools frequently. But if it's all free, how. do they make money.
Once a user has over $100,000 in investable assets, that person then becomes a lead for their wealth management department. You don't ever have to invest any of your money with them if you don't want to.
But if you decided to invest with them, they charge an asset management fee of 0.89% for portfolios between $100,000 and $1 million. Which is actually quite high for a robo-advisor. Once you have over $10 million, the fee becomes 0.49%.
Personal Capital is different than Betterment or Wealthfront in a sense because it is more expensive but they promote their Certified Financial Planners being willing and able to meet more frequently.
What Are The Downsides of Personal Capital?
There are two major downsides to Personal Capital:
As soon as you have $100,000 in investable assets, their financial planners will start reaching out to you. You don't have to work with them though unless you want to. You can politely decline and they won't reach out to you again. 
Their budgeting software is not as user-friendly and easy to use as many of the free budgeting apps out there. I recommend using Mint or even Qube Money.
In Conclusion
I'm a big fan of Personal Capital's free tools and I think it's the best personal finance software to help you reach your retirement goals.
If you haven't signed up for an account before, I encourage you to get started by clicking the link below!
Create a Personal Capital account for free!
If you've heard of Personal Capital before but have never given it a try, I encourage you to try it out.
Don't get overwhelmed at first as I did and give up.
Take the time to accurately set it up and I promise it will help you make better financial decisions because you'll be well on your way to financial independence. 
Let me know your thoughts about Personal Capital in the comments below!